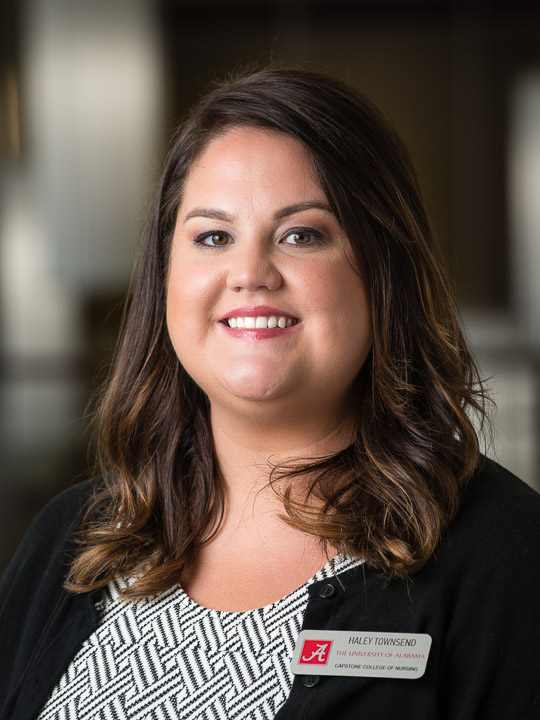 Education
Biography
Haley Townsend is an assistant professor at the Capstone College of Nursing. She earned her BSN in 2009 from The University of Alabama, and in 2011, she graduated from Samford University in Birmingham, Alabama, with her MSN with a Family Nurse Practitioner concentration. She earned an EdD in Instructional Leadership from the Nurse Educator Doctoral Program at UA in May 2019. Dr. Townsend currently teaches in Evidence Based Practice and serves as the co-course leader and teaches in Community Health Nursing.
Dr. Townsend began her nursing career working in a medical intensive care unit upon graduation, with additional nursing experience in preventative women's health. She taught two years in a community college program before joining CCN as a part time clinical instructor in the Fall of 2015.
Dr. Townsend's research interests include sexual health, particularly sexually transmitted infection prevention, stigma and embarrassment surrounding sexual health and increasing screening in underserved areas. In addition, Dr. Townsend is involved in promoting menstrual hygiene and HPV vaccination uptake education in youth.
Dr. Townsend, in collaboration with other CCN faculty members, launched Project Wellness in Motion in the Summer of 2021 which aims to promote mobile clinic health and wellness in rural Alabama. Visit the Project Wellness in Motion page here for updates on current happenings: https://www.facebook.com/Wellness-in-Motion-100466152318666.
Honors and Awards
Areas of Interest
Scholarly Highlights