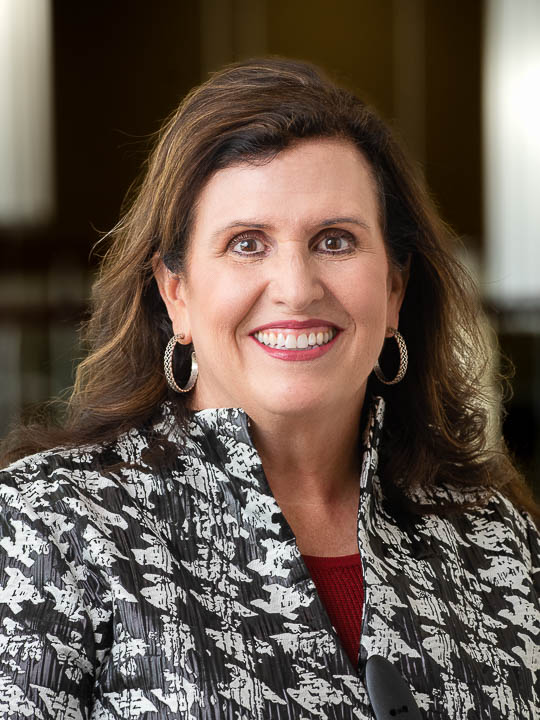 Angelyn Adams Giambalvo Dean and Professor
Biography
In academic nursing since 1993, Dr. Sanford most recently served as dean and professor of the school of Nursing at the University of Mississippi Medical Center in Jackson, Mississippi. Under her tenure, research funding quadrupled, enrollment increased by 35% and $55 million was obtained for a new building. She served as director of the school of nursing at James Madison University in Harrisonburg, Virginia. She served in earlier academic roles at Spring Hill College, University of Southern Mississippi and worked as an emergency department nurse, progressing to professor, at the University of South Alabama.
Since 2019, Dr. Sanford has served as a member-at-large and currently as secretary on the Board of Directors of the American Association of Colleges of Nursing (AACN), the national voice of academic nursing. AACN has 865-member schools of nursing at public and private universities nationwide. She continues to serve as an accreditation team leader for CCNE, the Commission on Collegiate Nursing Education and is a member of the substantive change review committee.
Recognized on national and international levels, she provided U.S. Senate testimony advocating for Nursing Workforce Development funding and was recognized as a Champion for Change by the White House. Globally, she served five years as chair of the International Network of Universities' Nursing Leadership Collaborative, which includes universities from Japan, South Africa, Spain, Sweden, the United Kingdom and the U.S. With over $13 million in federal, state and foundation research and program funding, her scholarly interests include the health status of informal caregivers, program development, decision-making, patient safety and the scholarship of teaching and learning. Known for her visionary leadership excellence, she was named a March of Dimes Nurse Executive of the Year and Rural Health Community Star by the National Organization of State Offices of Rural Health.
Dean Sanford received her bachelor's degree at the University of Alabama, her master's degree at the University of South Alabama, and her doctoral degree at Louisiana State University Health Sciences Center. She is a certified Joanna Briggs Institute systematic review facilitator and trainer and fellow in the Academy of Nursing Education (2022), American Academy of Nursing (2017), AACN Wharton School of the University of Pennsylvania Executive Education (2015) and AACN Leadership in Academic Nursing Program (2011).
Dean Sanford has been married for over 35 years to Bob Sanford, a CPA. Their son Joseph (Chelsey) is a mechanical engineer in Arlington, Virginia; son Brannan (Kristina) is a security manager in Virginia Beach, Virginia; and son Taylor is an automotive engineer in Lincoln, Alabama. They have two grandchildren and two shih tzu dogs.