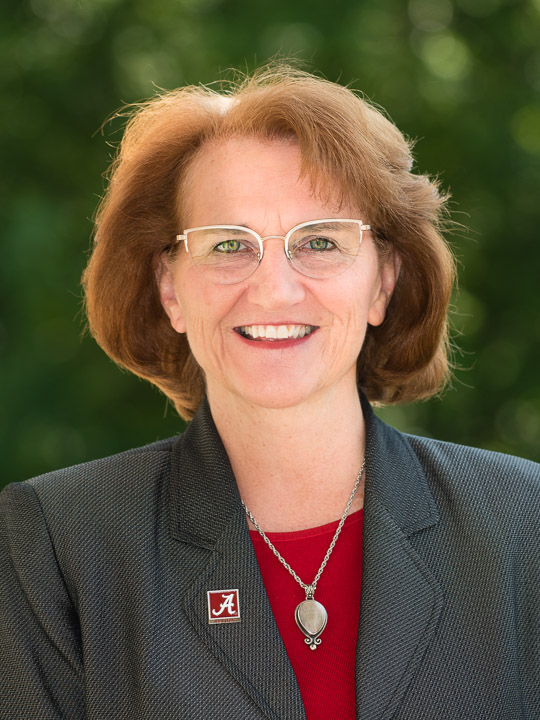 Education
Biography
Dr. Suzanne Prevost was appointed as professor and dean of the Capstone College of Nursing at the University of Alabama in August 2013. She served as the CCN Dean from 2013-2023, and then voluntarily stepped down to a faculty position. From 2008 – 2013, she served as associate dean at the University of Kentucky College of Nursing. During the previous ten years, she held the National HealthCare Chair in Gerontological Nursing at Middle Tennessee State University. From 1993-1998, she was the Director of Outcomes Evaluation and Nursing Education at the University of Texas Medical Branch. Earlier in her career, she worked as a Clinical Nurse Specialist and critical care staff nurse.
From 2011 through 2013, Dr. Prevost also served as the President of Sigma Theta Tau, the International Nursing Honor Society. Sigma Theta Tau has over 100,000 members who reside in 90 countries. Dr. Prevost was instrumental in expanding the global presence of the organization, including the establishment of a satellite office in South Africa, and promoting international collaboration throughout six global regions. During her term as president, the association was selected to serve in consultative status to the Economic and Social Council of the United Nations.
Dr. Prevost received her bachelor's degree at Villa Maria College in Pennsylvania, her master's degree at the Medical University of South Carolina, her doctoral degree at Texas Woman's University. She has completed a Hartford Postdoctoral Fellowship at the University of Arkansas for Medical Sciences; and she is a Robert Wood Johnson Nurse Executive Fellow. Dr. Prevost is a certified online instructor; and has been a certified trainer with the End-of-Life Nursing Education Consortium (ELNEC). Her research has focused on evidence-based practice, improving end-of-life care in nursing education. She served as the clinical editor of the journal Nursing Clinics of North America from 2007 to 2012.
Dr. Prevost has received numerous awards throughout her career. These include regional and international level awards for research dissemination and research utilization from Sigma Theta Tau. She was recognized with the Lifetime Membership Award from the American Association of Critical Care Nurses and the Kentucky State Award for Excellence from the American Association of Nurse Practitioners. She has also received national awards from both the American Association of Critical Care Nurses and the Hospice and Palliative Nurses Association for her research. Finally, she has been recognized as an outstanding alumnus from Villa Maria College, the Medical University of South Carolina, and Texas Woman's University.
Dr. Prevost has been married for over 40 years to Frank Prevost, a civil engineer. Their daughter Elizabeth Hill is a registered nurse in Louisville, Kentucky; and their daughter, Emily Prevost, is an advertising executive in New York City. They have four grandchildren.