Eight CCN Students Receive DCH Health System BSN Scholarship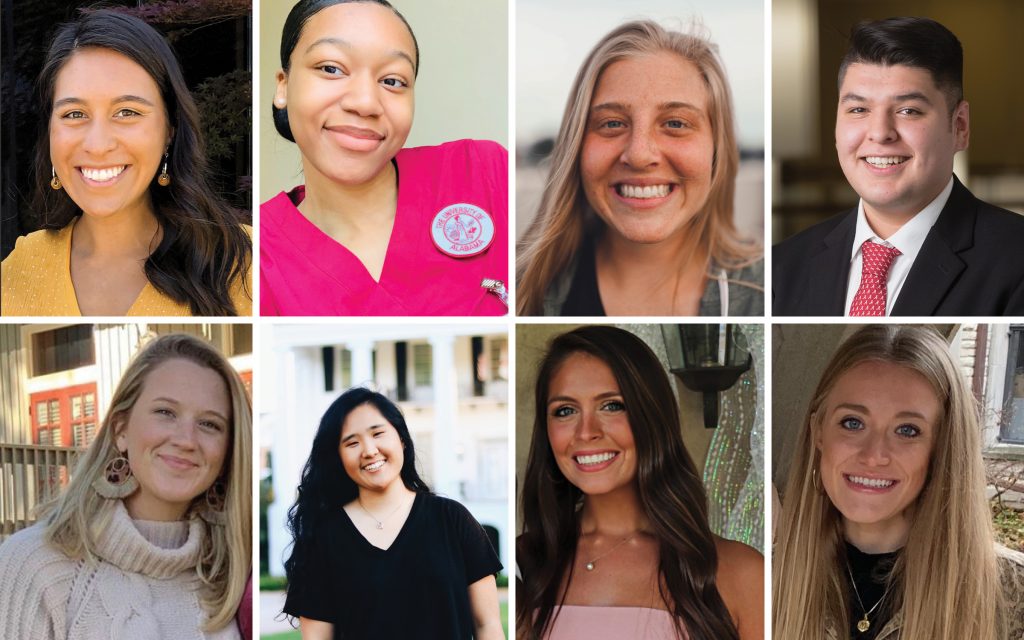 The Capstone College of Nursing is pleased to announce that eight of its students are recipients of the DCH Health System's BSN Scholarship.
CCN students Paola Araque (Mount Juliet, Tenn.), Jordan Beckham (Mobile, Ala.), Abby Christensen (Frankfort, Ill.), Javier Figueroa (Holly Pond, Ala.), Alisha Isbell (Tuscaloosa, Ala.), Amber Liu (Sandy Springs, Ga.), Carly Stegall (Helena, Ala.) and Madeline Stoettner (Western Springs, Ill.) were selected to receive the scholarship. Araque, Liu, Figueroa, Christensen and Stegall are current DCH employees.
"We are so appreciative of this opportunity for our students," said Dr. Suzanne Prevost, CCN Dean. "The need for nurses has never been greater, and many of our nursing students are experiencing increased financial challenges due to the pandemic. The DCH Health System BSN Scholarship is easing the financial burden of pursuing a BSN, while ensuring that qualified nurses remain in our community during this time of great need."
The DCH BSN Scholarship Program is open to all BSN college students enrolled in their last four semesters at an approved nursing program. Recipients of this scholarship are expected to become employed as full-time RNs at DCH Health System, and to remain employed at DCH for 12 months for each semester of scholarship assistance.
"Some of these students have already been gaining experience at DCH. From those experiences and what we have read, they are an exceptional group," said Faye Zwieg, Chief Nursing Officer at DCH Health System. "We are excited to offer these scholarships and look forward to working with each of them."
For questions about the scholarship program, please contact Peggy Sease at Peggy.Sease@dchsystem.com, or Rebekah Welch at rebekah.welch@ua.edu.
The University of Alabama Capstone College of Nursing prepares graduates for the professional practice of nursing. The college is a national innovator in clinical simulation in nursing education, utilizing simulators and telehealth technology in teaching, research and health care delivery. We partner with a variety of well-respected health care facilities to provide clinical experiences that ease the transition into the working world and prepare graduates for challenges after school.
For nearly 100 years, DCH Health System has been providing quality and compassionate health care to its friends and neighbors in West Alabama. Today, the DCH Health System includes DCH Regional Medical Center, Northport Medical Center and Fayette Medical Center.
IMAGE: Top Left to Right: Paola Araque, Jordan Beckham, Abby Christensen, Javier Figueroa. Bottom Left to Right: Alisha Isbell, Amber Liu, Carly Stegal and Madeline Stoettner.