2020 CCN Distinguished Alumni Award Presented to Dr. Jessica L. Peck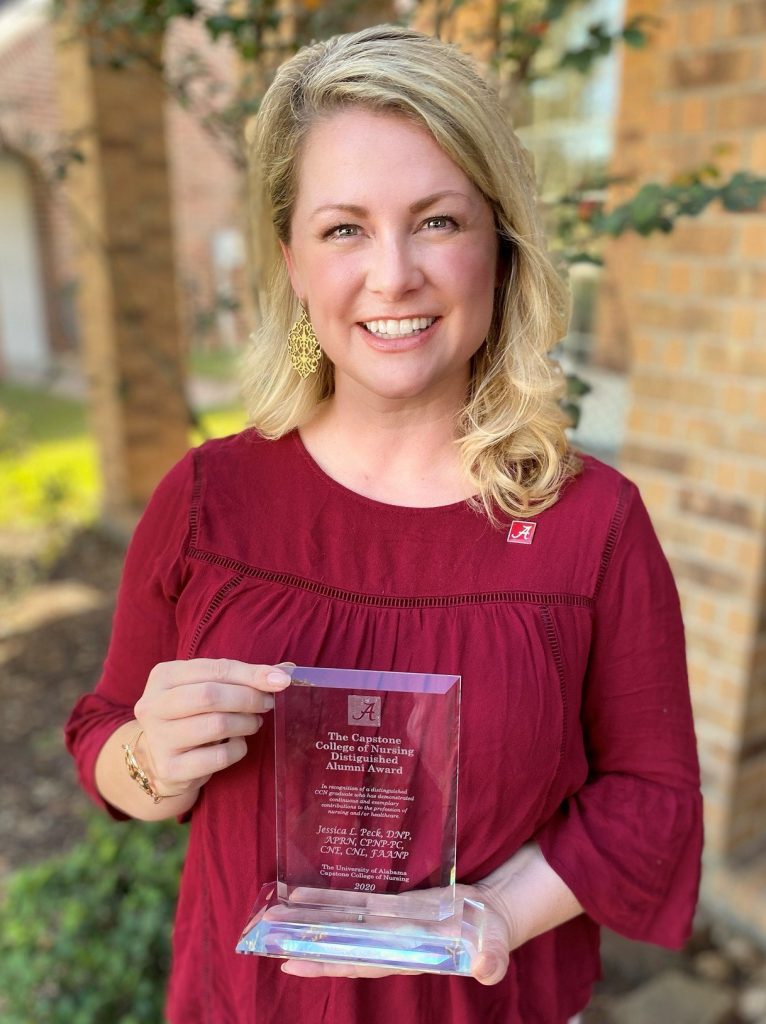 Each year, the Capstone College of Nursing Alumni Association recognizes a distinguished CCN graduate who has demonstrated continuous and exemplary contributions to the profession of nursing and/or healthcare as the recipient of CCN's Distinguished Alumni Award.
This year, CCNAA is thrilled to honor Jessica L. Peck, DNP, APRN, CPNP-PC, CNE, CNL, FAANP with this award. Dr. Peck is a 2012 graduate of the College's Doctor of Nursing Practice program and continues to be an example of the key values of CCN: education, scholarship and service.
An expert in her field, Dr. Peck is shaping future nurses as a clinical professor at Baylor's Louise Herrington School of Nursing. As Dr. Peck's DNP faculty advisor, the late Dr. Marietta Stanton, once said, "Jessica uses an approach to education that is forward thinking and inventive, utilizing the latest educational theories to deliver current evidence-based practice guidelines in nursing… Her potential for innovation is unlimited."
As president of the National Association of Pediatric Nurse Practitioners, Dr. Peck is focused on improving the quality of care for infants, children and adolescents. An advocate for vulnerable youth populations, she also combats child trafficking through her work with a number of organizations, including NAPNAP's Alliance for Children in Trafficking (ACT); Dr. Peck developed ACT Advocates, a grassroots advocacy program, to train healthcare professionals to respond to human trafficking in their communities.
CCNAA is honored to present this award to Dr. Jessica Peck. Below, she shares some highlights from her nursing journey.
What led you to pursue nursing as a career?
I am the firstborn in a new generation in my family. Previously, the only person in my family who had achieved a university education was my maternal grandfather. I was a bright learner and a good student, but I had absolutely no self-awareness, tools, or encouragement to seek academic opportunities after high school. As a woman at that time, the only two career paths that seemed remotely accessible to me were teaching and nursing. Because a teaching degree was not available at a community college, I fell into nursing. I had always loved caring for people and nursing turned out to be a wonderful fit for me. I am so grateful for the nursing profession, which provided affordable, accessible, and innovative pathways for me to grow as a clinician, a scholar, and a leader.
What are some major takeaways from your undergraduate journey?
When nurses, particularly nursing students, see my list of credentials and accomplishments, they often express admiration or intimidation. I love to remind myself and share with them, my very humble beginnings. I was not a strong nursing student in my undergraduate program. Plagued with timidity and a lack of self-confidence, I often found myself an unwilling focus of the instructor!
Once, an elderly female patient for whom I was caring demanded (loudly, rudely, and urgently) that I remove her dentures. I hadn't practiced that in lab but made an educated guess that it was in the routine hygiene care realm and did not require supervision, put on gloves, and attempted removal. As you have probably guessed, she bit down on my fingers…and did not let go! After frantically signaling the emergency call bell and assisted removal by two nurses with padded tongue depressors, I was rescued. The nurses asked me, "What in the world are you doing?!" When I explained I was attempting to remove her dentures, they said "She doesn't have dentures!" And that mean lady laughed and laughed and laughed. Long story short, I moved quickly to pediatrics and never looked back.
What motivated you to continue your education, ultimately bringing you to UA for your DNP?
Both my husband and the physician for whom I worked initially encouraged me to pursue a bachelor's degree. My husband even got a master's degree during this time, so we could go to school together. Then, he got a second master's degree while I got my first so we could continue together! Sitting through five graduation ceremonies is true love.
All along the way, nursing faculty have encouraged me, mentored me, and pushed me to do more. They saw potential in me before I saw it in myself, patiently and persistently guiding me a step further down the path each time. I am so grateful to each of them. I never sought academic or professional opportunity on my own before achieving my DNP. It was always presented to me as an opportunity by a kind and faithful mentor who was willing to invest in the future of their profession.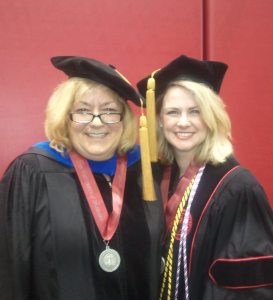 When I was ready to seek doctoral education, as a nurse clinician, I knew the DNP was right for me. At the time, there were no DNP programs in Texas, so I began to look elsewhere, where I quickly found The University of Alabama. With nationally recognized and respected nursing scholars and a well-organized and leading-edge DNP program, I was quickly engaged. During my interview with the faculty who would become chair of my project, Dr. Marietta Stanton, she asked me "Are you willing to make the sacrifices that will be necessary to be successful in this program?" After a pause, I said "yes" and with no pause she said, "The faculty are willing to do the same." I was sold.
Dr. Marietta Stanton and Dr. Peck at Peck's DNP commencement ceremony.
What are some of your favorite moments from your graduate journey?
The first memorable moment was during the DNP Intensive. I was chosen as the keynote student speaker and to say I was nervous is a laughable understatement. I rushed off to the hotel business center to access a computer (this was before I had a laptop!) to review my presentation one. last. time. I flew in there like a crazy wind and found another woman working who recognized my distress. She offered to let me practice and gave me some encouraging words. I walked out, feeling more self-assured and confident. As I sat back at my table, I saw the same woman enter the room…and walk straight up to the podium as the keynote speaker. It was Dr. Penny Kaye Jensen, President of the American Association of Nurse Practitioners. I will never forget her humility and her kindness.
During my time at UACCN, I was accepted into the leadership program of the National League for Nursing, a great honor. At that time, Dr. Marsha Adams was a faculty member at UA while also serving as President of the NLN. Although I did not know her well, she came to find me at an NLN gala in Washington D.C. and I sat with the president and CEO, Dr. Beverly Malone as a UACCN DNP student. It was a great honor and a whole lot of fun. Dr. Malone shared stories about dining with Prince Charles and persuading Tony Blair to empower nurses to prescribe! It was a night I'll never forget.
What did you find challenging about pursuing an advanced degree? Were there any particular obstacles you had to overcome along the way?
Graduate education is never easy. Even if you are a student with no financial stressors, no family challenges, no need to work, and no limit to your social support, it's still hard! But life happens. Financial stressors arise. Family needs demand your time. Health crises occur.
For me, I got my DNP with four children between the ages of one and seven years, and a full-time job. The only way I could do it was capitalizing on their early bedtime and being disciplined to do it with my husband's support in cooking and carpooling!
A bigger challenge was continuing to fight for the legitimacy of my DNP degree. Other health professions and professionals expressed skepticism, condescension, mockery even, toward the idea of a nurse with a clinical doctorate. Some of the attacks have been incredibly unprofessional and deeply personal. But I know nursing provided me an accessible pathway to positively impact health outcomes in a way that is innovative, forward-thinking, and modern. I'm meeting real people with real needs in real time, making a real difference.
What impact did obtaining your DNP have on your career?
Of the five academic degrees I now hold, the DNP degree program was by far the most transformative of my entire career. It was during this experience I felt a palpable shift from skilled clinician to leader and scholar. The DNP paradigm lifted my eyes from what I could do for an individual child in my exam room to what I could do for all children all over the world. I also became the first DNP-prepared nursing faculty to achieve the rank of full Professor with tenure in my state university system. I'm proud of that. DNP graduates continue to show the world the resilience and innovation of nursing.
What advice can you share for an undergraduate nursing student?
Maybe you are a student like I was, barely making ends meet and barely getting by in school. Persist. Persevere. Power through. Accept where you are in the journey and know your time to shine is just ahead. Develop relationships with trusted professional mentors. Take their advice. Believe them when they believe in you. Work hard! Never take no for an answer! There is always a new way to try something. If you are already a superstar, then keep shining! Dare to dream big! Nursing need leaders like you.
What advice do you have for a nurse considering an advanced degree?
There has never been a more exciting time to pursue a graduate degree in nursing. This is an unprecedented health crisis as the COVID-19 pandemic spreads throughout 2020, the Year of the Nurse. Nurses are ranked annually as the most trusted profession by the American public. With a holistic practice framework and the trust of the public, nurses are integral to the nation's health.
The collective strength of nursing as a unified profession can impact health policy by leveraging our acquired knowledge and excellence in leadership to confidently serve the public and promote health equity. Nurses with advanced degrees are much needed and well-equipped leaders to serve at the epicenter of this crisis. Nursing is the most innovative, resilient, caring, and tenacious profession that has ever existed. Nursing will always find a way to rise up and meet the challenges of tomorrow.
You have come full circle—from student to educator. What is your favorite part of being in the classroom? 
My favorite aspect of being in the classroom is my students! They never cease to amaze me, inspire me, and teach me something new every day. I am grateful for the opportunity and carry the weight of the responsibility of stewarding this privilege well. I absolutely love seeing students grow professionally and join me as a colleague. One of my first undergraduate students I taught as a young nursing instructor has now gotten her master's degree as a nurse practitioner followed by her DNP, and is joining me as faculty. That's really special.
What is your favorite aspect of practice?
My favorite aspect of practice is the kids of course! The courage, tenacity, resiliency, and fresh-faced honesty of children lifts my spirit, warms my heart, puts spring in my step, and gives me hope for our future.
At CCN, we have made it a priority to encourage work-life balance for our faculty, staff, and students. What are some of the ways you achieve this balance?
My hobby has been learning, as you can see by my credentials and degrees (#NerdAlert). My favorite hobby is spending time with my family. We love to travel all over the world and experience new cultures. I also sing and play the piano a bit, and love being involved in my church's worship ministry. I am an avid reader and an aspiring writer. Family is always most important. I often take my family with me when I travel. For example, my teen daughter came with me on a road trip to testify at the state capitol. I got to do my job, she got to see how government worked, and we had six hours in the car to talk. I use this approach as often as possible.
What do you see as your greatest achievement thus far?
My greatest achievement both personally and professionally is my four wonderful children. As a mother of three teens and one preteen, I am inspired every day to make the world a better place for them. My children have been so supportive of my career and my efforts to improve child health. They, along with my husband, are my greatest champions.
Professionally, I am honored to have been a trailblazer in a string of firsts, following in the footsteps of true legends in our profession… first woman in my family with a university degree, first nurse practitioner hired in three healthcare organizations, first DNP graduate on the faculty at the University of Texas Medical Branch, first DNP to achieve the rank of tenured professor in the Texas A&M system, now helping lead the first BSN-DNP program for pediatric nurse practitioners in Texas.
Other highlights include Fellowship in both the American Association of Nurse Practitioners and the American Academy of Nursing as well as being named Texas Nurse Practitioner of the Year. Serving the National Association of Pediatric Nurse Practitioners has been the most meaningful and impactful professional experience of my career.
What do you hope to achieve in the future?
This is an exciting time in my career. As a Clinical Professor, I have academic freedom to choose scholarly projects that are the most meaningful to me, and those which may have the greatest impact. I am very excited to see Baylor's desire to use scholarship to positively impact underserved populations. I hope to impact my students by inspiring them to follow God's calling with their profession. I hope to impact the patients we serve both directly and indirectly by using nursing to improve health outcomes.
While the care provided by nurses is widely and loudly celebrated, the voice of nursing lacks equal attention. As a scientific profession, nurses are not only caregivers but scholarly practitioners of care with a distinct culture of evidence-inquiry and implementation. Nurses conduct research, advocate for effective health policy, implement evidence-based practice, provide rigorous education and lead interprofessional teams to make a difference in health systems. Although nursing as a profession safeguards the majority of public trust, nursing voices are underrepresented at decision-making tables, in leadership positions, in government-appointed task forces and in the media.
Ultimately, I hope my work will shape the public's health in the future by inspiring others to use their voices as policy advocates, their eyes and hands as competent caregivers, their minds as teachers and scholars, and their hearts to clothe these efforts in compassion, strength, innovation, and resilience. Nursing will always rise up to meet the challenges of tomorrow.
Finally, is there anything you would like to leave us with today?
Our profession often requires grueling work which costs us physically, mentally, and emotionally. We practice in a world where our families struggle at times to understand burdens we bear, our education is diminished, our moral distress is present in decision-making, our bodies and minds are tired, and our voices are silenced. Nurses often put the needs of others above our own needs, to our detriment at times. These are, as many have said, uncertain times. However, I am certain the test of this pandemic will reinforce the strengths of nursing and we will come through this stronger together. And so, we press on. Despite the dangers, we are there in the most fragile and vulnerable times during human life. We meet indignities with the utmost dignity and compassion. We keep confidences without judgment. We honor wishes and protect autonomy. We cheer progress even when the end seems endless. We serve daily doses of hope in the face of utter hopelessness. We wipe tears of strangers and hug broken human spirits. We care for people when they cannot care for themselves. We are calm in the face of fear. We are comfort in the midst of pain. We face difficult things straight on, head up and eyes clear, although we take a moment to cry in the parking lot before we drive home to care for our own families.
As the most disruptive innovation in 21st century healthcare, DNP-prepared scholars have a calling to provide high quality, accessible, affordable care, especially to the most vulnerable among us– our children. It will take extraordinary courage to impact the issues facing healthcare today. As nurses, it will take our collective efforts, our acquired knowledge, our applied wisdom, and our unwavering dedication to fearlessly do whatever it takes to be a voice of advocacy for health all over the world.