University of Alabama receives $1.8 million to improve patient care in rural Alabama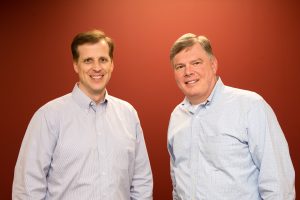 The University of Alabama's Dr. Nathan Culmer (College of Community Health Sciences) and Dr. Todd Smith (Capstone College of Nursing) have received $1.8 million in funding this year from the United States Department of Agriculture Rural Development's Distance Learning and Telemedicine grant program. This funding will significantly increase the Emergency Medical Services' telemedicine capabilities in rural Alabama, connecting 49 ambulances with approximately 18 hospitals across 19 rural counties in Alabama.
"With this network of telemedically-equipped ambulances and emergency departments in rural Alabama communities, we anticipate better response times to and from patient sites, improved quality of care at the point of need, and reduced financial burden for both patient and provider," said Dr. Smith. "Dr. Culmer and I feel that we have created a critical infrastructure of EMS telemedicine capabilities that will enhance patient care and outcomes in medically underserved communities across our state."
Once fully implemented, the project will offer access to higher quality and more efficient patient care by transporting patients to the most appropriate healthcare facility or enabling emergency department personnel to determine that a patient should remain on site, potentially reducing unnecessary hospital transports and 30-day readmissions. Additionally, it will provide for the transmission of more detailed medical and video data directly from EMS providers to emergency physicians and advanced practice providers in emergency departments. With this advanced data and telemedical communications, patients with possibly life-threatening conditions can be transported to the most appropriate facility in the least amount of time, which could save lives and improve quality of life.
"Our earlier research found that telemedicine capabilities in emergency situations had not been widely implemented across the U.S., and especially in rural communities. In fact, we recently found only 13 previous studies directly related to prehospital telemedicine, most of which did not adequately address concerns related to quality, cost, and patient satisfaction," said Dr. Culmer. "A project on this scale will not only enhance the quality of care for rural Alabamians but will provide data for future research in this critical area."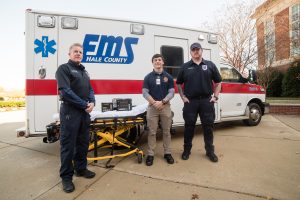 This project will be implemented in the following Alabama counties: Bibb, Clarke, Clay, Cherokee, Choctaw, Coosa, Covington, Escambia, Greene, Hale, Lamar, Marengo, Monroe, Perry, Randolph, Sumter, Tallapoosa, Washington and Wilcox. In 2020, these rural counties had a total of 56,346 EMS calls and 26,056 individuals were transported to a hospital emergency department.
"Residents in rural Alabama often have limited transportation access due to geographic barriers, which can mean longer distances for ambulance travel, limited communication between first responders and physicians, and a limited number of ambulances spread over a wider geographic range," said Dr. Elwin Crawford, Alabama State EMS Medical Director. "These factors ultimately yield longer wait times before a patient receives care in hospital facilities, poorer health outcomes, extended transition times, and less patient and provider satisfaction."
"This project, along with other ongoing initiatives in our state, will do a great deal to address healthcare discrepancies in our rural communities."
The USDA Rural Development's Distance Learning and Telemedicine program helps rural communities use the unique capabilities of telecommunications to connect to each other and to the world, overcoming the effects of remoteness and low population density.
Photo captions:

TOP: Drs. Nathan Culmer and Todd Smith. BOTTOM: Hale County EMS, represented by Duane Baines, Kade Roberts and Bailey Crawford, will implement the project, connecting telemedically-equipped ambulances and emergency departments in the communities they serve.