Faculty and student practice serves our local community of concern.
Tell us about your faculty practice.
I volunteer on Wednesdays at the Good Samaritan Clinic. I practice as a triage and discharge nurse.
Why do you choose to volunteer at the Good Samaritan Clinic?
I have been involved with the clinic for over 10 years as a member of the Board of Directors. I have had the opportunity to serve as the President of the Board during this time. Several years ago when we were expanding the clinic hours to Wednesdays I felt the Lord calling me to do more than serve on the board. It was a very clear calling that there was a "mission field" less than a mile from my house and I was being called to serve in that ministry.
What are some of the barriers and/or challenges that you face? Your patients?
The patients are wonderful. The patient population is between the ages of 18-64 living in one of 7 counties in West Alabama. The patients are uninsured. They do not receive any government assistance and do not have Medicaid healthcare services. The majority of the patients work in low paying jobs where insurance is not offered, or they are not able to afford it. They are truly some of the best people I have ever worked with. They are grateful for the care and are always looking for ways to give back to the clinic. For example, we have patients who work in the construction field. If they see something that needs repairing they will come and fix it. It is their way of saying thank you and their way of using their gifts to serve the clinic.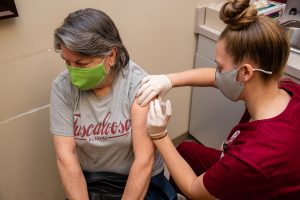 What impact are you making as an individual and as a representative of CCN?
The relationship between the Good Samaritan Clinic and CCN has strengthened over the past 5 years. We have nursing students from all of our programs, traditional, RN to BSN and graduate who complete clinical hours at the clinic. The Good Samaritan Clinic encourages our students to learn in their facility. We have also been able to use the Good Samaritan Clinic for research endeavors for faculty and students.
The small impact I have and the opportunity I have to serve at the clinic is nothing compared to the impact the Good Samaritan Clinic Medical ministry has had on my life and my practice.