Faculty practice provides faculty members with the opportunity to be engaged in their area of expertise. As leaders of exemplary, innovative, and culturally proficient faculty engagement, faculty members fulfill the mission of the UA Capstone College of Nursing's Faculty Practice Committee. The Faculty Practice Committee strives to increase the visibility of the school of nursing by spotlighting the practice of faculty members as they practice in community agencies. Practice sites are diverse and represent the expertise and background preparation of faculty engaged in faculty practice. Faculty "spotlights" are updated multiple times annually to showcase the exceptional work of faculty practice members. Be sure to return to this webpage in the future to learn about the practice of other faculty members!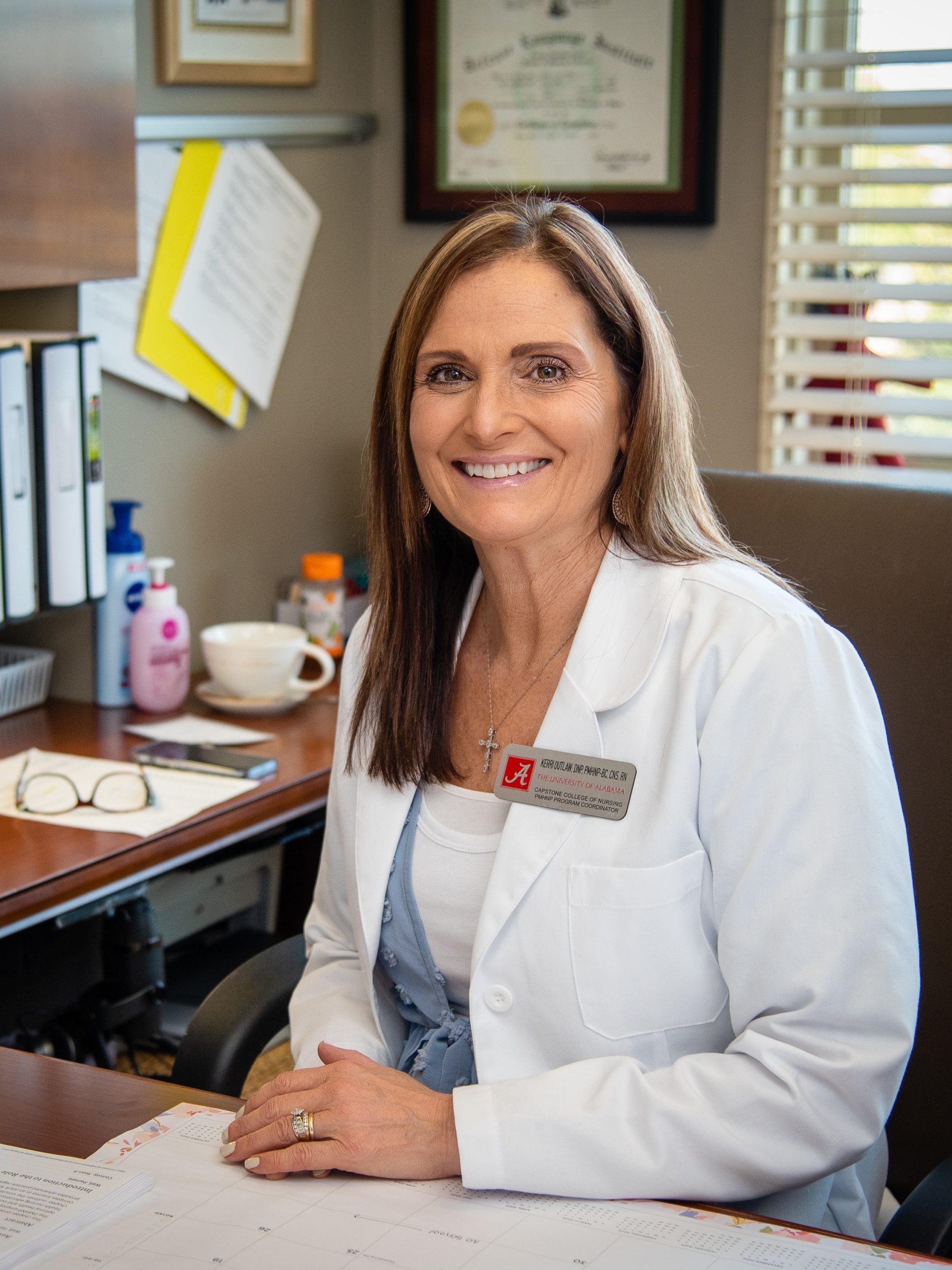 "In May of 2022, I accepted the challenge of serving as the PMHNP concentration coordinator within the graduate program here at Capstone College of Nursing. As a Clinical Associate Professor, I am blessed to guide and mentor graduate students as they prepare to work with diverse and medically underserved populations of all ages as a Psychiatric/Mental Health Nurse Practitioner.
I am a Psychiatric Mental Health Nurse Practitioner with a faculty practice at Dothan Behavior Health Medicine Clinic and Troy Regional Medical Center in Troy, AL. I have the privilege of being able to care for patients with mental health issues across the lifespan. I routinely provide psychiatric assessment, diagnosis, planning, and evaluation of treatment plans for the individuals I care for. Additionally, I work with families to explain treatment plans and educate them on the importance of their role in being a support system for their loved one..
I serve patients "across the lifespan", specifically as young as age 5, and I have even had several centenarians.
A typical day in my practice starts out making rounds in our local hospital's geriatric behavioral health unit. My main responsibility is to admit new patients and to evaluate the effectiveness of current patients' plans of care to prepare them for transition back to the community setting. I also see outpatient clients for a variety of conditions. I assess, diagnose, and treat patients suffering from mental illnesses and a variety of disorders, including PTSD, ADHD and substance abuse. My goal is to provide holistic treatment to the individuals I care for whether in the hospital or in the community.
Utilizing evidenced based practice is critical in caring for the diverse patient population I serve. The medications and treatment modalities we employ are constantly changing. The patients we treat often come from underserved areas of Alabama, and being creative is often the key to compliance. Careful evaluation of access to care for rural clients revealed that implementing a transportation system within our county helped significantly improve missed appointments. Our office made it a practice to provide local transportation schedules and phone call reminders to our patients.
My professional interests as it relates to my faculty practice include ADHD in adults, anxiety in children, autism and substance abuse.
I have been working in mental health since 2018. I love what I do, and I do not see that changing. As long as I am healthy and able to treat patients, I will continue to serve my community in whatever capacity I am needed.
Genetic testing has become more heavily used by providers in an effort to decrease the number of failed medication trials for patients. More insurance companies are seeing the value in this screening and providing coverage that originally was simply not there. COVID also brought about many changes in mental health care, with how it was delivered being one of the main concerns. Telemedicine became a primary form of treatment for patients. While both clients and providers were skeptical as to its effectiveness, it has also become an effective form of treatment, and better treatment compliance has been seen.
One of the things I am most proud of is the opportunity to attend the medically underserved in Alabama. Promoting the importance of mental health and wellbeing is in direct alignment with our mission statement at CCN. It makes me so proud to be able to tell others I am part of University of Alabama.