Faculty practice provides faculty members with the opportunity to be engaged in their area of expertise. As leaders of exemplary, innovative, and culturally proficient faculty engagement, faculty members fulfill the mission of the UA Capstone College of Nursing's Faculty Practice Committee. The Faculty Practice Committee strives to increase the visibility of the school of nursing by spotlighting the practice of faculty members as they practice in community agencies. Practice sites are diverse and represent the expertise and background preparation of faculty engaged in faculty practice. Faculty "spotlights" are updated multiple times annually to showcase the exceptional work of faculty practice members. Be sure to return to this webpage in the future to learn about the practice of other faculty members!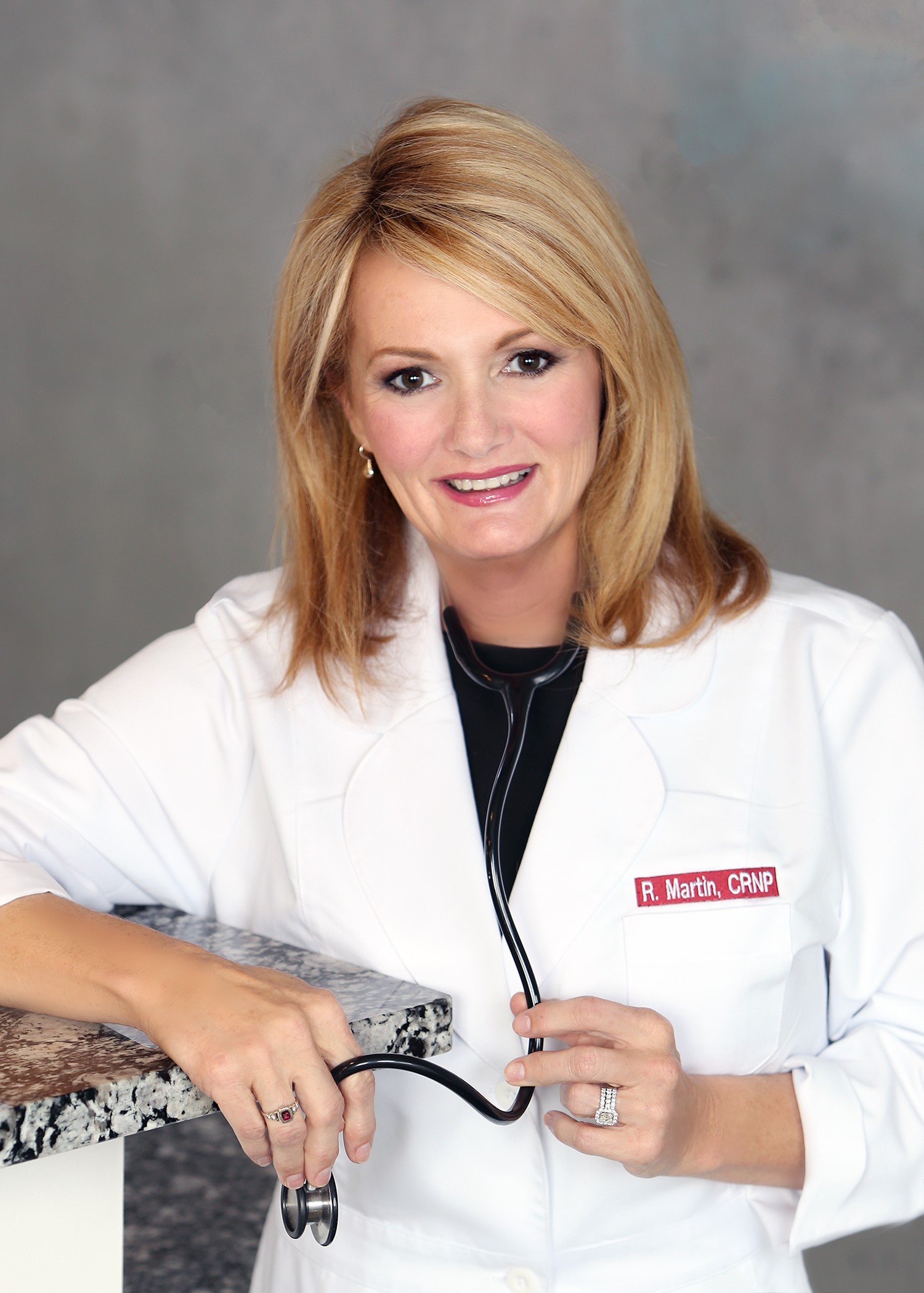 Rebecca A. Martin, DNP, CRNP, FNP-BC
Family Nurse Practitioner Concentration Coordinator, Clinical Assistant Professor
I am the Family Nurse Practitioner (FNP) Concentration coordinator, and a Clinical Assistant Professor at the Capstone College of Nursing. As a part of the FNP team, I teach in the graduate program where I advise and mentor both FNP and DNP students. I appreciate getting to know the students more broadly and being a source of support and guidance during the various stages of their graduate program as they transition into their new roles as advanced practice registered nurses .

My responsibilities include ensuring the FNP concentration meets accreditation standards, coordinating the FNP curriculum and clinical placements, and creating a learning environment that facilitates student learning and achievement. I maintain relationships with internal and external constituencies, including academic and clinical partners, and serve on college committees. My responsibilities as faculty include teaching, engaging in scholarship and service, and maintaining a faculty practice.
I volunteer at the Good Samaritan clinic (GSC) in Tuscaloosa. As a family nurse practitioner, I am a primary care provider focusing on acute and chronic disease management, disease prevention and health promotion. The mission of the GSC "is to promote the dignity and healing of all human life by providing primary health and dental care to low income and medically underinsured in West Alabama." The Good Samaritan Clinic (GSC) of Tuscaloosa is a Christian ministry and operates by donations and in-kind gifts from community partners and volunteer hours; the free clinic provides comprehensive care to people who do not have access to health insurance, Medicare, Medicaid, or patients who are underinsured in West Alabama. Comprehensive care at the clinic includes access to primary, dental, and mental health care, assistance with transportation and prescriptions and access to specialty care.

GSC volunteers include FNPs, psychiatric mental health nurse practitioners (PMHNP), RNs, physicians (primary and specialty), medical students, and other disciplines. Volunteers dispense medication and schedule appointments with specialists, and donations provide a variety of healthcare aides.

Volunteering at GSC allows me to maintain my clinical skills and provide healthcare to rural medically underserved patients.
The clinic serves uninsured patients aged 19 to 64 in West Alabama with a household income at or below 200% of the Federal Poverty Line. Patients with acute and chronic disease and those who need preventative healthcare.
A typical day at GSC begins with rural medically underserved patients with various complaints and healthcare needs in part due to their limited access to appropriate healthcare services. Acute and chronic illness, disease prevention and health promotion are the types of encounters seen at the clinic. Patients are examined, diagnosed and with the patient as a full partner in decision-making a plan of care is developed and discussed. Patients meet with a discharge nurse before leaving the clinic. The discharge nurse reviews the plan of care, medications, laboratory, diagnostic plans, and any referrals, etc., elicits questions and provides additional education. The in-hours pharmacy is available to fill prescriptions or help with over-the-counter medication. A typical day at GSC goes beyond addressing patients' medical diagnoses and treatment and includes care with dignity, kindness, and hope. GSC volunteers assist with transportation services, medical referrals, and other needs to support the best healthcare outcome for patients. The availability of resources far exceeds my previous experience as a provider in rural, medically underserved clinics.
Evidence-based practice (EBP)is the foundation of my clinical practice. I use up-to-date healthcare databases, Medical and Nursing journals, and apps to remain current.
My primary interest and passion are serving rural, medically underserved populations. As FNP faculty, I remain current in practice, essential for teaching future healthcare providers in an evolving practice arena. I have firsthand knowledge of the challenges of clinical practice, allowing me to better assist students with applying the best evidence to achieve positive healthcare outcomes.
I plan to continue serving rural medically underserved populations and translating my experience to FNP students.
The Department of Veterans Affairs granted NPs full authority to practice in 2017. Changes are the increase in the number of NPs practicing in the state of Alabama, NP's ability to prescribe controlled substances, adding the Medical Board to NP practice, and regulatory changes resulting from COVID-19 (some were temporary). A focus on holistic care with an emphasis on preventative care, the growth of retail clinics, increase in the use and availability of technology, telemedicine, telehealth, video conferencing, and genomics in the diagnosis and treatment of patients.
My faculty practice is at GSC, where I provide primary care to rural, medically underserved patients. My faculty practice contributes to the mission of the Faculty Practice Committee and CCN by providing a service to the community and promoting the health and well-being of people in Alabama. I share my experience in my faculty practice and rural health with my students for a meaningful learning experience. I am thankful for the opportunity to serve my community.